Computer Desktop Customization in the DesktopLand Directory
We welcome you to our desktop customization website to present collection of free screensavers, desktop wallpaperss, animation themes and backgrounds for your computer at DesktopLand.com.
Here at DesktopLand we try to collect only the wonderful art work of photographers, programmers, and painters in the field of desktop computer graphics.
Here you will find original works, divided into separate categories (3D, animals, fantasy, sports, nature, space etc.).
Currently, more and more pops take animation desktop themes. We have tried to demonstrate to you the most beautiful among them.
Also on our web resource you will find a collection of different icons in various formats and resolutions, to develop web and computer applications and original customization for PC desktop.
Here in DesktopLand.com is a collection of creative and original desktop wallpapers, free 3D screensavers, backgrounds, animated desktop themes and much more for your computer and applications.
We are constantly searching to bring you only the best. You'll be pleased.
We also provide the unique instructions for the creation of savers, walls, original themes and desktop tools for creating them. The authors reviews are accepted.
DesktopLand.com is the unique art guide and search collection for many Desktop Customization Online Stores. Easy, quick, and smart downloads for desktop wallpaper in HQ, many Resolution (in 1080p), novel screensavers and more for computer with previews and downloads.
Computer pictures are as balanced as wild nature around us. They can be created in various ways - through personal designer, or 3D-graphics. A rich selection of tools gives you the choice to the user and sets it on the excellent work. Thus, the choice of images is very important in their daily work at the PC.
All material free sorted by category and available for preview and free download. Specify the desktop resolution and theme (3D, widescreen, big space, landscape, wild nature, nice animals etc.).
Surprise your colleagues gorgeous custom animated screensavers and Mouse pointers.
For original web design you can find a lot of free iconsets, themed backgrounds and web fonts for blogs and websites.
For applications developers are sets of creative skins, hotbars, app toolbars, and iconpacks.
Also presented anime cursors, uniq Mouse icons, 3d animations, IE, Opera, Firefox, Chrome Browsers skins.
Our brigade tried to gather the best selection of desktop tools for working on the PC. Many talented designers send us their superior work and we always welcome such initiatives.
Happy viewing.
Excellent resource for all fans of computer graphics.
I am very glad that I found DesktopLand.com. Very conveniently sorted material.
Thank you. I recommend to all my colleagues and friends.
Billy Joel
Categories
Newest desktop software
Screensavers
-
Warmth Of Home Screensaver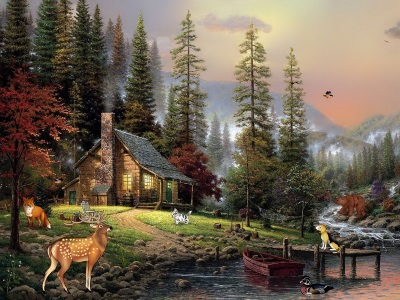 What could be sweetest and dearest for every man heart than the warmth of his home, where he spent his childhood. People grow up and leave their birth-place, but the warmth and comfort of home stay with us forever. And already sitting in their homes and apartments, surrounded by children every time we mentally transport back to where we were born and raised. Install this magnificent animated screensaver with natural sounds of wildlife, great music and make a fascinating trip to the country of your childhood. Three beautifully animated scenes will take you back where you came from. Numerous domestic animals, ducks, swans, chickens, cats, dogs, butterflies and other inhabitants of your home. And of course forest surroundings give the skits exceptional beauty and tranquility. This screen saver has no age boundaries and surely will be loved both by adults and children!
Downloads: 11
Screensavers
-
Village Idyll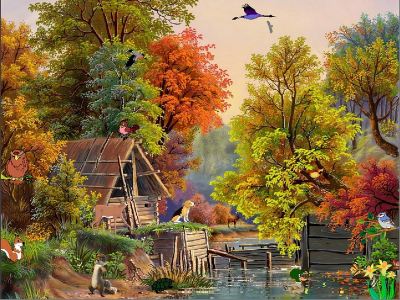 Village Idyll free animated screensaver is not only for lovers of country living. But for all the people who love nature, pets and wildlife. Summer lawn with flowers, butterflies, dragonflies, ponds, autumn landscapes with spectacular riot of colors of autumn probably will like these colorful scenes. Gradually changing each other birds singing and chirping of insects. Screensaver includes 3 scenes, that change each other with great transition effects and analog clock. Excellent animation of "living water", animated characters and wild pets - butterflies, deer, birds, eagles, rodents, swans, cows and horses. They no doubt will decorate your desktop and raise your spirits. Village Idyll with their inhabitants and traced scenes certainly will help you to relax after a hard day's work. Download free screensaver!
Downloads: 54
Nature Screensavers
-
Sunrise Lake Screensaver
The beauty of the morning fog in the rays of the rising sun is reflected in our new screensaver Sunrise Lake. The graphics is very realistic as if you are sitting on the bank of the lake and admire the sunrise. In addition sound effects are presented in this screensaver. You can hear the singing of different birds and the soothing sound of water. Download and install Sunrise Lake screensaver, it is so easy!
Downloads: 25
Screensavers
-
Snowfall Fantasy
Charming screensaver Snowfall Fantasy takes you into the magical land of the white snow and beautiful winter landscape. You will find yourself in a winter kingdom, where there is a snowfall of light fluffy snowflakes. This screensaver is actual during Christmas, New Year and winter holidays. It is very easy to install. Download winter snowfall screensaver for free!
Downloads: 30
Nature Screensavers
-
Great Waterfalls
Great waterfalls in your own home, is it possible? It is real thing with our new waterfalls screensaver. If you want to get out into nature, but it is not possible for you now, then this screensaver is for you. Relax and unwind from the city. Realistic graphics will not leave you indifferent. Great waterfalls screensaver takes up minimal space on your PC, suitable for any Windows and any screen. Just download and install it in one click!
Downloads: 84
More Popular Software